The future of CX: Advanced analytics and artificial intelligence
Add bookmark
---
---
---
While customer experience is and will continue to be a key differentiator for all companies, data and AI is at the heart of meeting the elevated expectations of today's connected customers, writes Vala Afshar, chief digital evangelist at Salesforce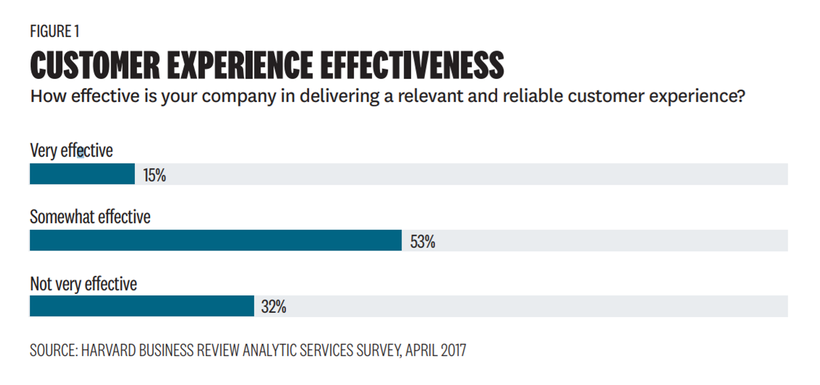 Research from Harvard Business Review Analytics Services, sponsored by Salesforce, found that a mere 15% of business leaders rated their customer service strategy and approach as very effective.
These are among the findings of a new Harvard Business Review Analytic Services study of 680 executives about customer experience management—research that features in-depth interviews with several top-performing company leaders.

The report also identified barriers that prevent companies from gaining a single view of the customer. Here are the key research findings:
The key to customer experience transformation
The top three success factors for customer experience transformation are: customer centric culture, management/leadership buy-in, and visibility into and understanding of the end customer experience.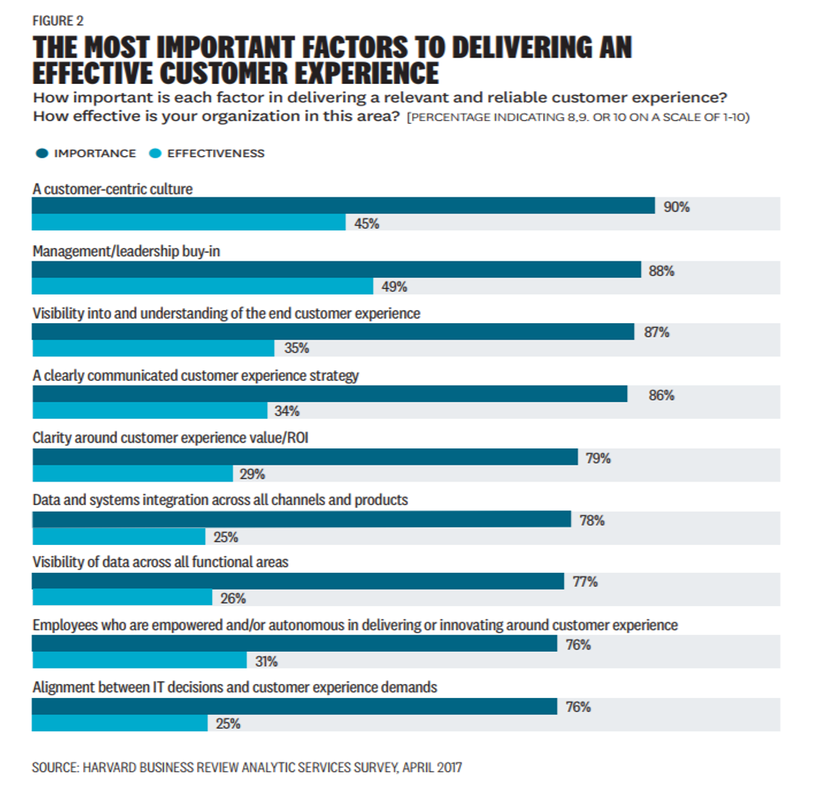 "Business leaders are clear about the most important factors in delivering superior customer experiences today. Topping the list is creating a customer centric culture, cited by nine out of 10 respondents."
Three-quarters of companies are not able to act on the majority of data they collect, owing in large part to disjointed systems and data integration issues
Only 13% of companies have a single source of customer intelligence today, and 30% are working toward that
Only 23% of business leaders are able to act on all or most of the customer data that they collect
"Data and systems integration and visibility across the enterprise, giving employees the power to deliver and innovate around customer experience, and aligning IT decision-making with customer experience demands were all cited as extremely important in delivering a superior customer experience. Yet only around a quarter of respondents said their companies perform well in these areas."
What sets customer experience leaders apart
The research reveals that customer experience (CX) leaders are more likely to be using emerging technologies and creating personalized and omnichannel experiences. CX leaders are also more likely to use data to predict and anticipate consumer needs, understand lifetime value, and track customer advocacy. CX leaders also have a much higher sense of urgency - they believe there is no time to waste in transforming to deliver a superior customer experience.
73% of business leaders say that delivering a relevant and reliable customer experience is critical to their company's overall business performance
93% of business leaders agree that a relevant and reliable customer experience is critical to their company's overall performance in two years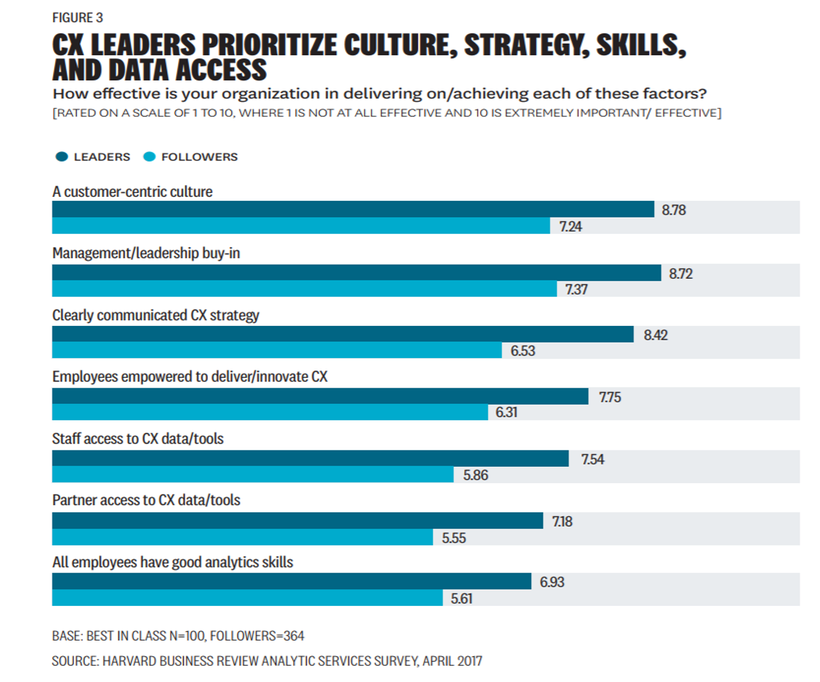 "The 15% of respondents who described their customer experience as very effective— reveals some fundamental differences between these forward-leaning organizations and others. They are more likely to have a customer-centric culture and a single source of customer intelligence. They are more capable and agile in leveraging their customer data to drive customer experience efforts, giving their employees and partners access to the tools and insights needed to create a superior customer experience."
The need for speed and agility
According the research, forward-looking companies have invested in new technologies capable of consolidating and analyzing key customer data and have reorganized to be able to act on that customer insight in a more nimble way.
86% of customer experience leaders believe their companies are able to quickly build new and innovative customer experiences in response to market dynamics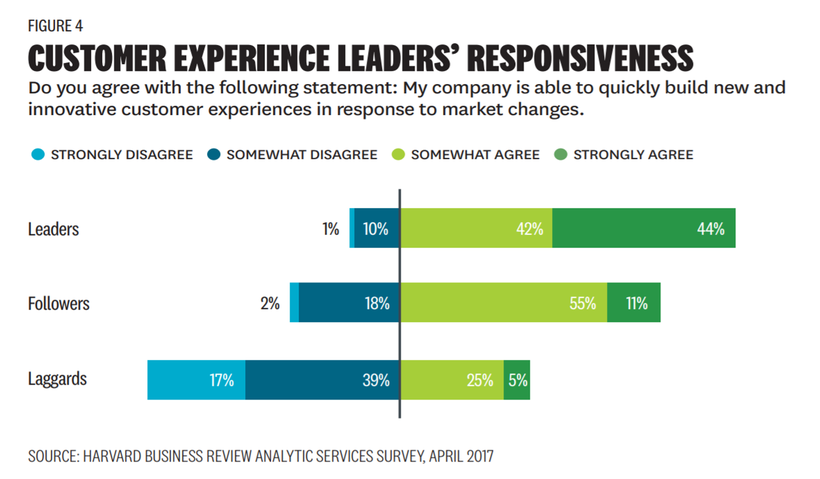 "Social media, mobile, and e-commerce or website data have seen the highest levels of growth. The expansion of third-party, partner, and beacon data has been more modest, although customer experience leaders report substantially higher rates of growth in these three areas, as well as in machine or sensor and e-commerce data."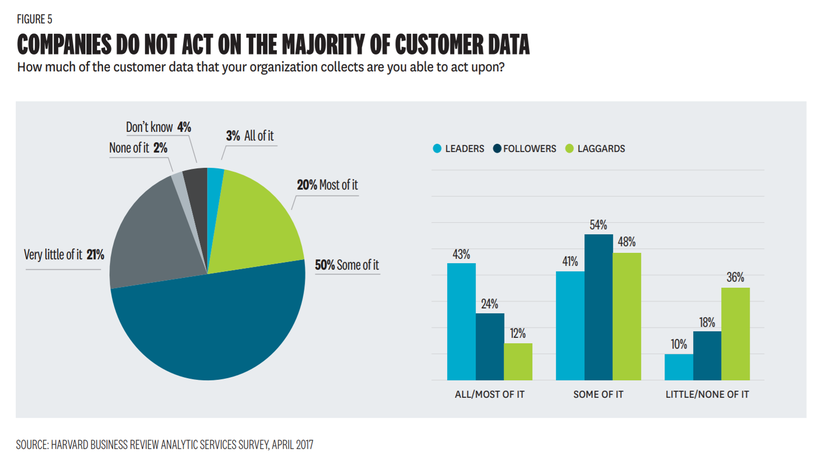 "Data has a clear role to play in developing a superior customer experience— and companies have access to more information on their customers than ever before. Indeed, they are seeing an exponential increase in customer-related data, driven largely by social media, mobile, and e-commerce. But these expanding troves of customer information alone are clearly not driving customer experience improvements—let alone innovation—in the vast majority of organizations." — Harvard Business Review Analytic Services


Only 23% of companies act on most or all of the customer data they collect, while a similar number (23%) said they act on very little or none of it, and the remainder use some of it.
40% of CX leaders said confidently that they are able to quickly act on the data they do use to make enhancements to the customer experience, compared to just 11% of followers and 5% of laggards.
A single source of truth remains elusive
The growth of data volume and sources means that most companies struggle to create a single source of customer intelligence. Just 13% have it today, and 30% are actively working on it.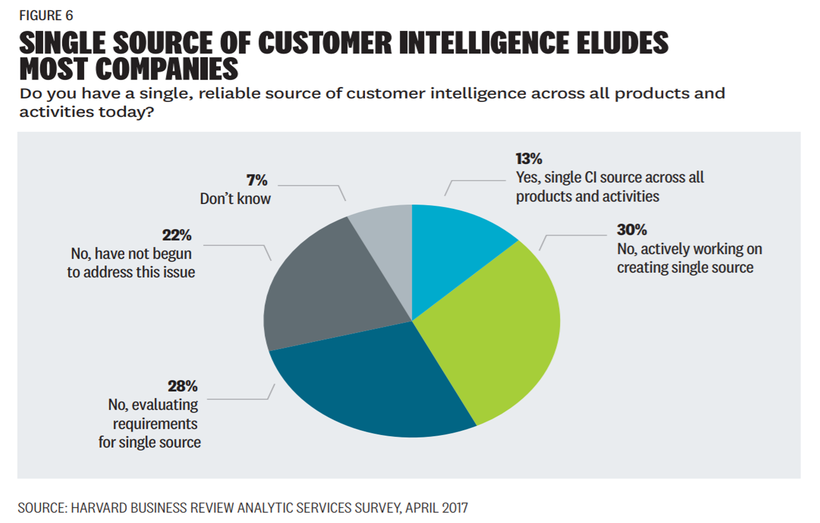 Save
Save
Save